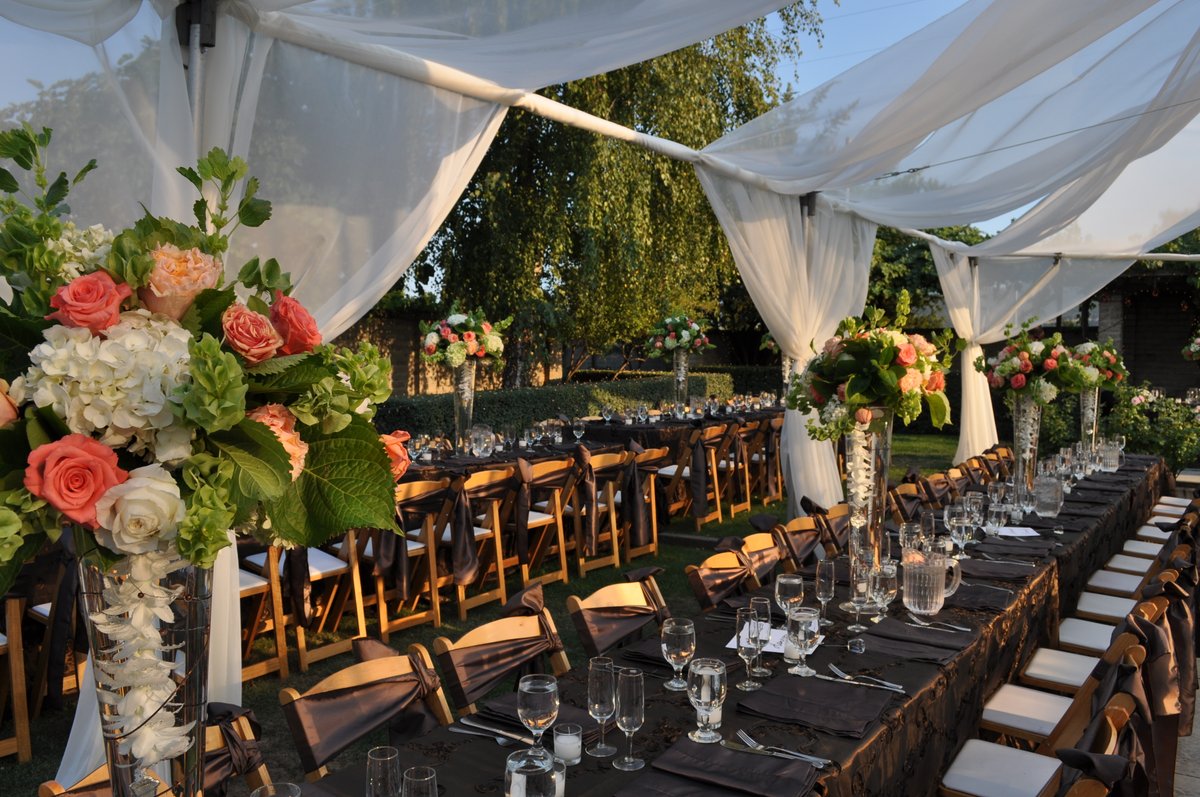 Private Events
Host your special day of any size and occasion at a peaceful, private, unique event venue with a myriad of outdoor and indoor spaces and elegant, professional services.
---
Intimate or elaborate. Wedding, celebration, business meeting or retreat. No matter the occasion, our elegant mansion, lush gardens, rustic barn, peaceful, private, historic setting, award-winning wines and professional staff will fulfill all your unique venue needs.

We offer themed events, tours of our on-site winery, holiday parties, wine tastings customized to your group in our tasting room or in the Voorhies Mansion. We can pair wines with fabulous meat and/or cheese platters, a selection of appetizers, or an elegant meal.
We have had the pleasure of hosting such groups as Channel 10 KTVL, American West Bank, Farmers Insurance, SOREDI, Southern Oregon University, regional medical groups, and many others.
Contact Our Events Team
E-mail our events department at events@edenvalleyorchards.com, or call  541-512-2955 x4 for more information or to schedule and plan your event.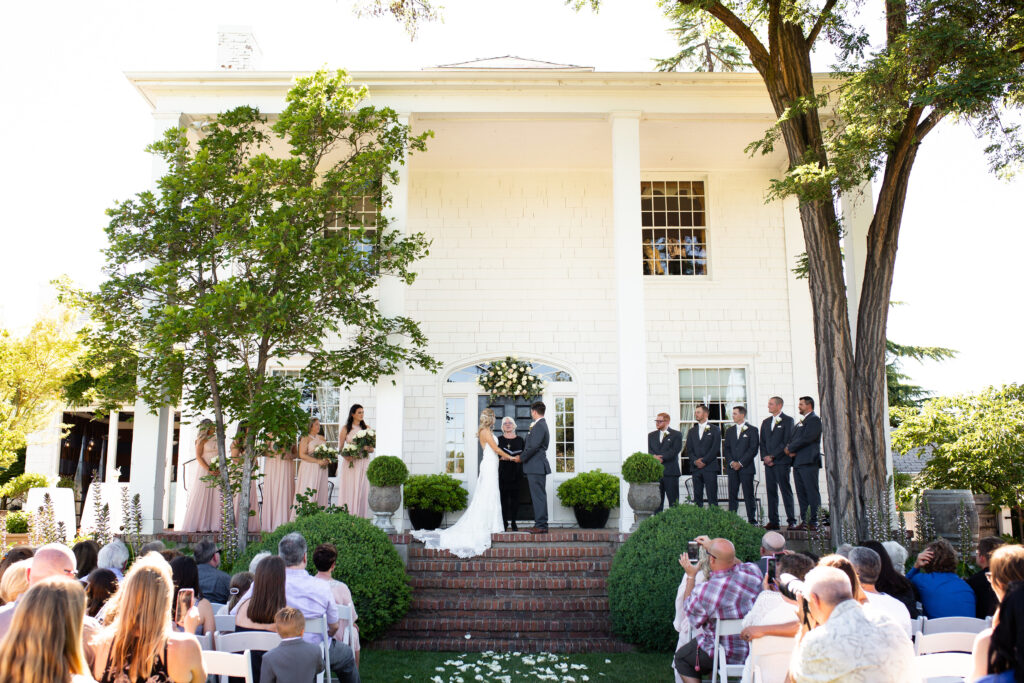 Weddings, Receptions and Rehearsal Dinners
We offer a wide range of wedding spaces to create the perfect storybook wedding. Formal, casual, sophisticated…whatever your dream, let us help you create a memorable and fun event. Our site can accommodate very large groups, including parking.
---
Business Retreats, Company Picnics and Holiday Parties
Plan your business meeting, retreat, holiday party or special dinner event at EdenVale Winery. We offer a unique, private setting, custom menus, and a range of venues and services. Our creative coordinators and chef can assist in making your event incredible. We specialize in creating out-of-the-box themed events or over-the-top experiences.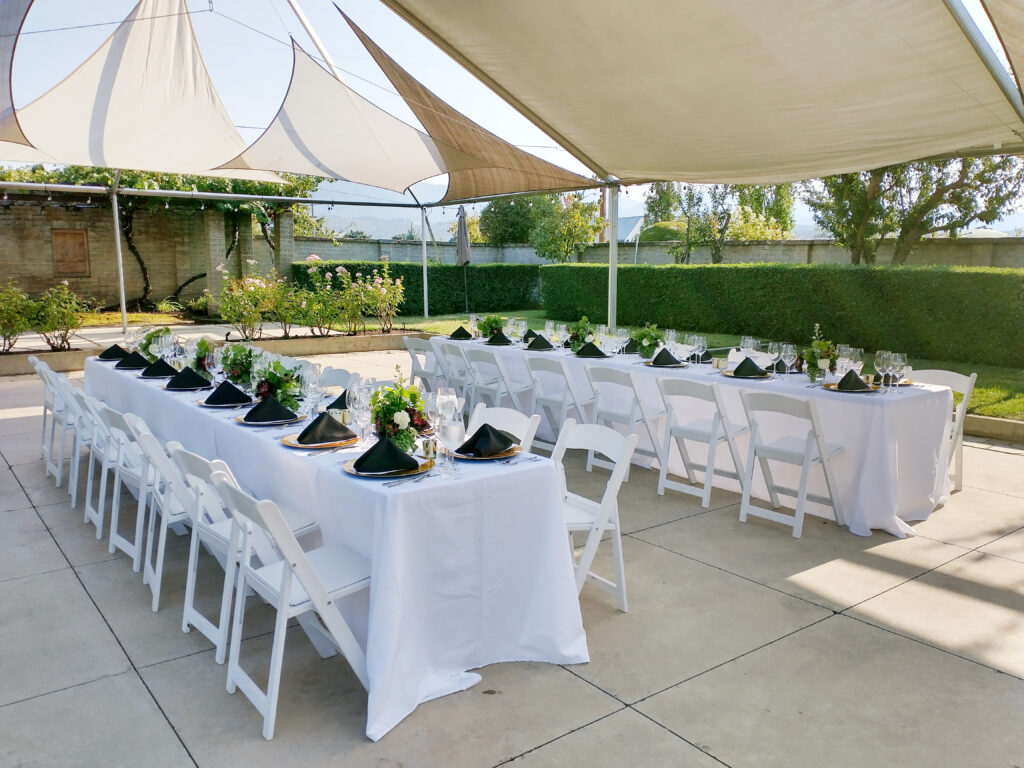 ---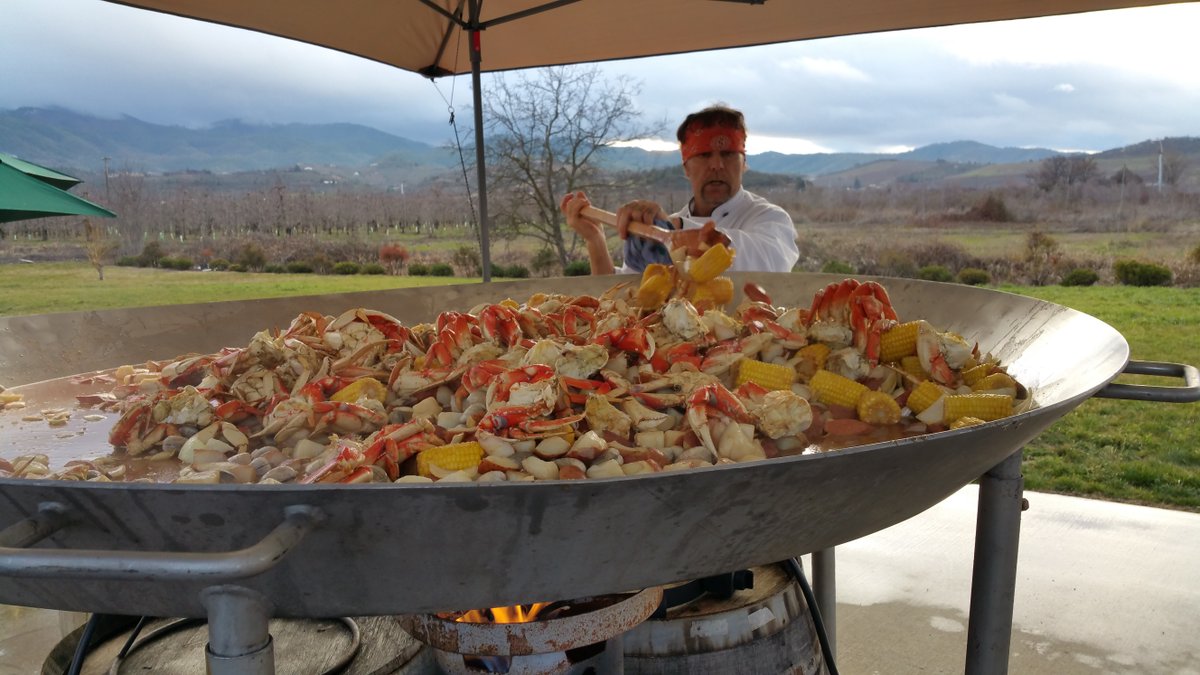 Family Reunions, Private Events, Dinners
Host your family reunions, holiday dinners, or once-a-year social gala at our historic mansion. We have beautiful table settings and an inviting atmosphere. Allow us to arrange the details while you enjoy your guests and the party. Whether it's a small to a large gathering, your event is important to us. Entertainment and special menus can be provided for children to make it fun for everyone.
Testimonials
0Just wanted to let you and Aaron know how perfect the engagement party was due to your hard work, perfection  and wonderful food!  Steve and I went to several wineries and restaurants looking for the perfect venue and from the minute we talked to the two of you we knew we  found the right place.  The two of you were warm and very professional so we were won over immediately.  By the way, several people who are wine "experts" more than us loved the wine and plan to go to the store you have on the plaza to purchase wines, Thank you again for everything.Lynne
1Thank you for making our party fabulous! You were so kind and helpful. The food was excellent and of course the wine superb! Thank you!Local Business
2Just want to say thanks to all of you! The event at EdenVale was absolutely fabulous. LOVEBITE was great – there weren't any seats left except when people were dancing. We all had a great time, and it seemed like everyone else did too. Thanks again to all of you!JulieSMART Area Manager
3Thank you for the Brunch. Everything was great, the tables, the food, all displayed beautifully. Couldn't find a thing I'd change, it should be a great success.Local Business
4Guests said things like, "What an elegant place," "The food was delicious and the presentation worthy of a magazine cover," "I LOVE the dining room," "How did you find this place?," "Did you see the hand painted ceiling?" Words can't adequately express how grateful we are to you and the staff for creating such a wonderful dinner experience. From the moment we arrived we felt welcome and appreciated… Eden Valley Orchards brought quality and splendor to our affair…It was exhilarating to step into the Mansion and see how magnificent it looked…the executive chef [used] quality local organic ingredients to make our dinner legendary…We will be back soon!Farmers Insurance
Location
For over a century the Voorhies Mansion has been a well-known and beloved landmark in Jackson County. It historically has been a social gathering place for local people, with surrounding amenities and valley views that are highly attractive to guests.
Our private and serene setting—just minutes from downtown Medford—offers year-round hospitality with a wide range of gracious areas for events, formal and informal.  In addition to offering facilities for private events, we also host our own public events.
Rooms, Spaces, Capacity
The Voorhies Mansion and formal gardens host many interior and exterior rooms that accommodate any size group or can be used simultaneously to make a large event run more smoothly.
The comfortable interior rooms of the 1890s Colonial Revival–style house (most with fireplaces) can host 12 – 70 people
Outside, our Formal Gardens and the dreamy, magical Outdoor Ballroom will accommodate 350 guests
Our 1925-era barn and grassy amphitheater allows for a more informal setting and can host up to 2000 guests
The nearby Pavilion and Wine Tasting Room feature unique experiences for your group as well, overlooking the demonstration Vineyard and the Joseph Stewart Heritage Pear Orchard
A special attraction for little ones is Mr. Stewart's Cottage playhouse and gardens, a delightful children's venue
Ample parking is available for all events
---
Floor Plans
---
Staff and Vendors
Our buildings and grounds are just the beginning. You will appreciate our professional staff, whose experience and talent will help you plan and hold meetings and events that will accommodate your specific needs and budget, as well as reflect a distinctive style. In addition, we work closely with many vendors in our community that bring the same high-quality standards and experiences to your event. We are happy to provide a recommended vendors list upon request.