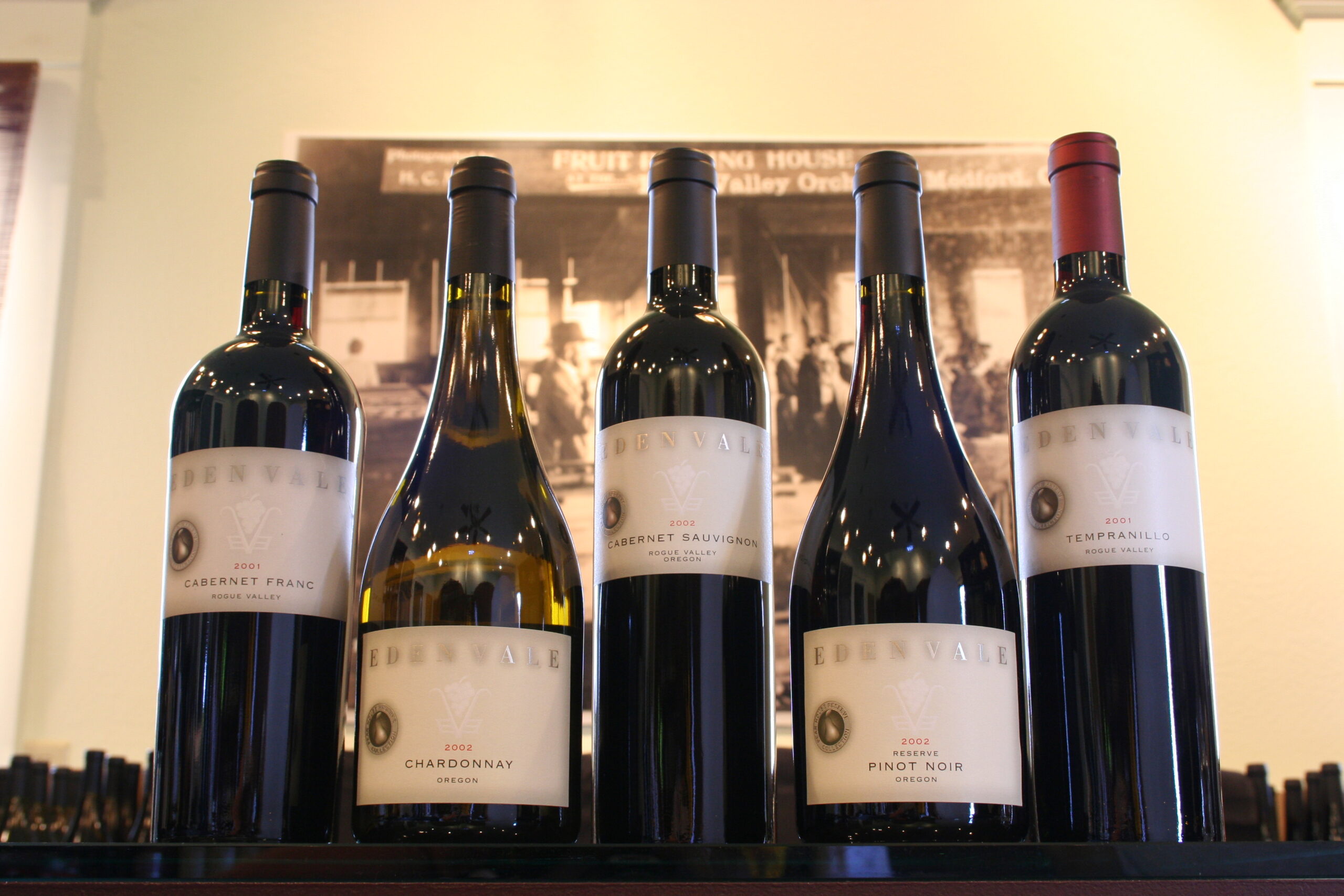 Wines
Introduced in 2003 with its first 2001 vintage, EdenVale wines reflect experience, innovation, artisanship and integrity of quality and taste. We feature a broad selection of wines that reflect the diverse micro-climates of Southern Oregon.
---
Typically, our region is known for big rich and bold red wines; however, with three distinct growing areas, we have carefully chosen a range of varietals that are world-class and reflect the region's unique diversity.
EdenVale first released their 2001 vintage in 2003 featuring Tempranillo, Syrah, Late Harvest Viognier, Pinot Noir, Chardonnay, and sumptuous red and white table blends. Amidst this significant historic setting surrounded by pear orchards, the EdenVale family winery now concentrates on making the finest wines in Southern Oregon. We specialize in Syrah, Viognier, Malbec, Cab Franc, Tempranillo, Grenache, Pinot Noir and Chardonnay with the same passion and great care that has always been an important family tradition.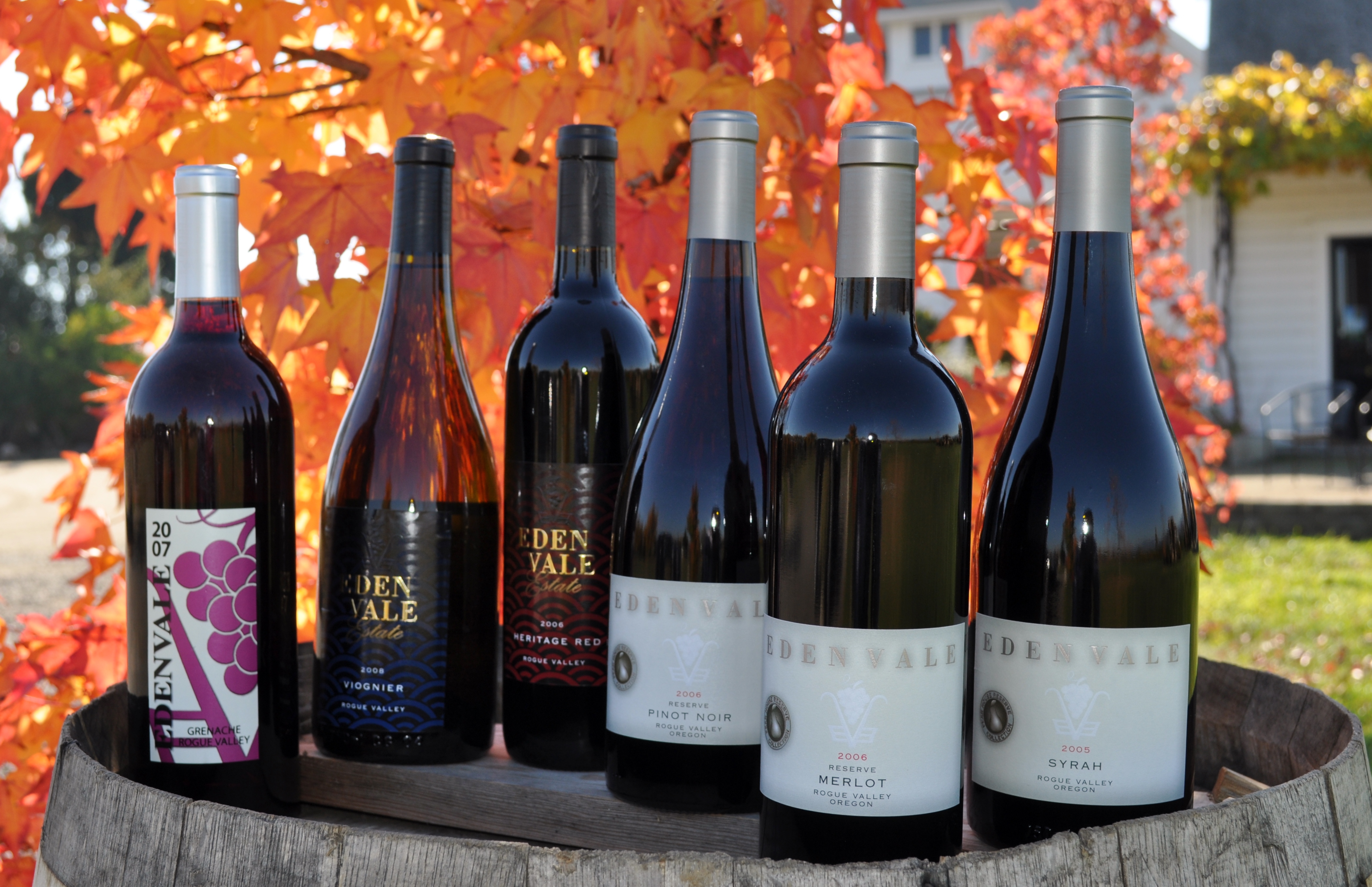 Wine Club
Join the Edenvale Wine Club for access to special events, tastings and pick-up parties. Quarterly or semi-annual shipment options are available for reds, whites or mixed selections.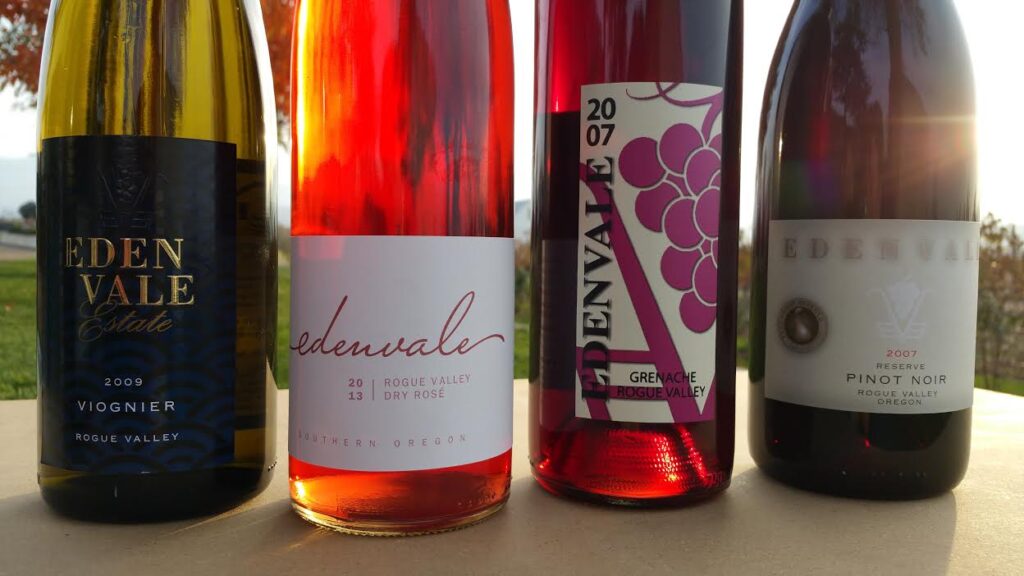 In Stores
EdenVale Wines can be found in Oregon Stores and Restaurants. To get quick and easy access to EdenVale's fine wines, shop at these locations.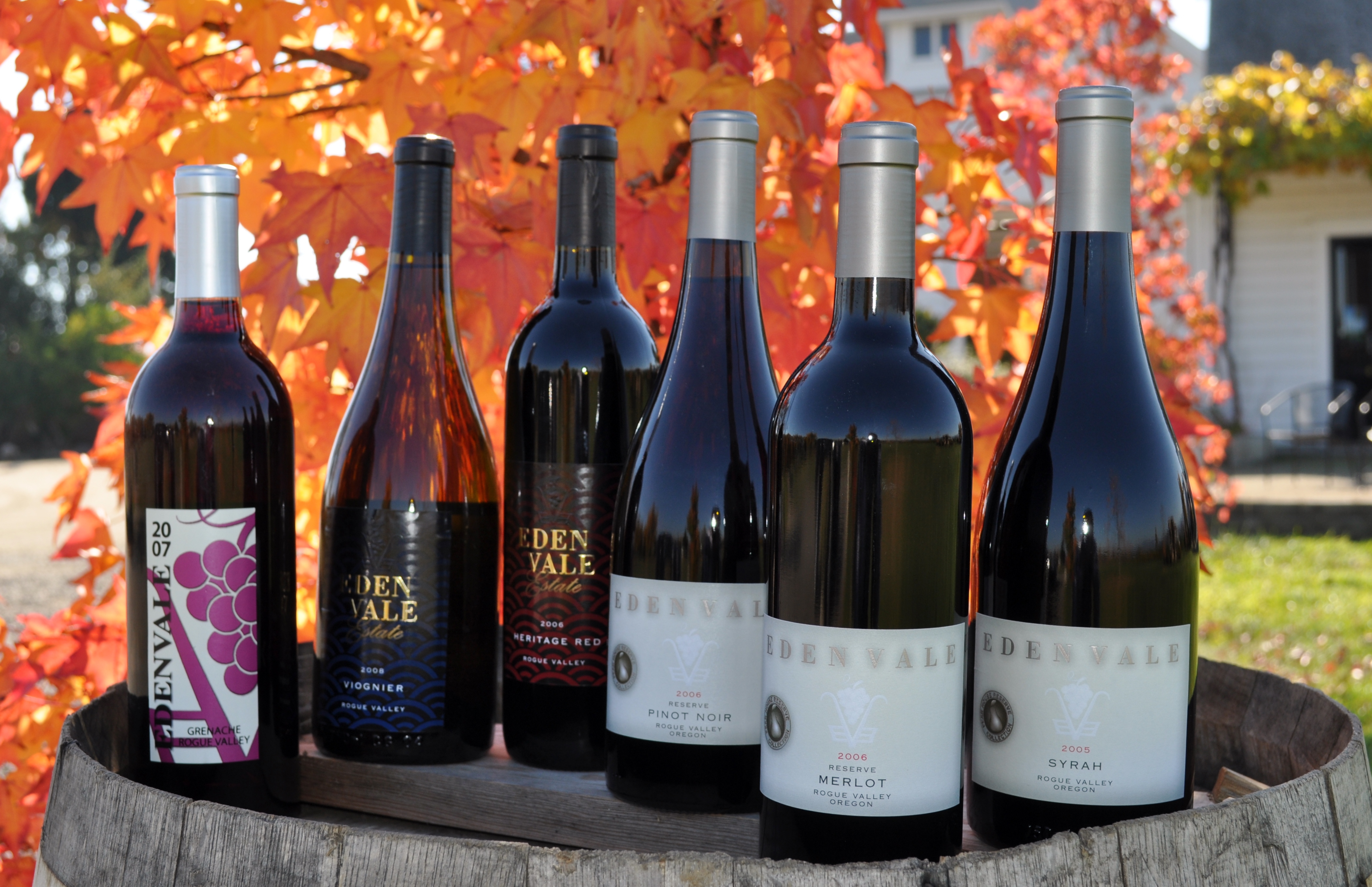 Buy A Barrel
Purchase a minimum of 24 cases, any wines! Our crew will help to load your take-away vehicle. Receive 35% off standard retail pricing for one barrel, and 40% off on all future wine purchases with a second barrel purchase.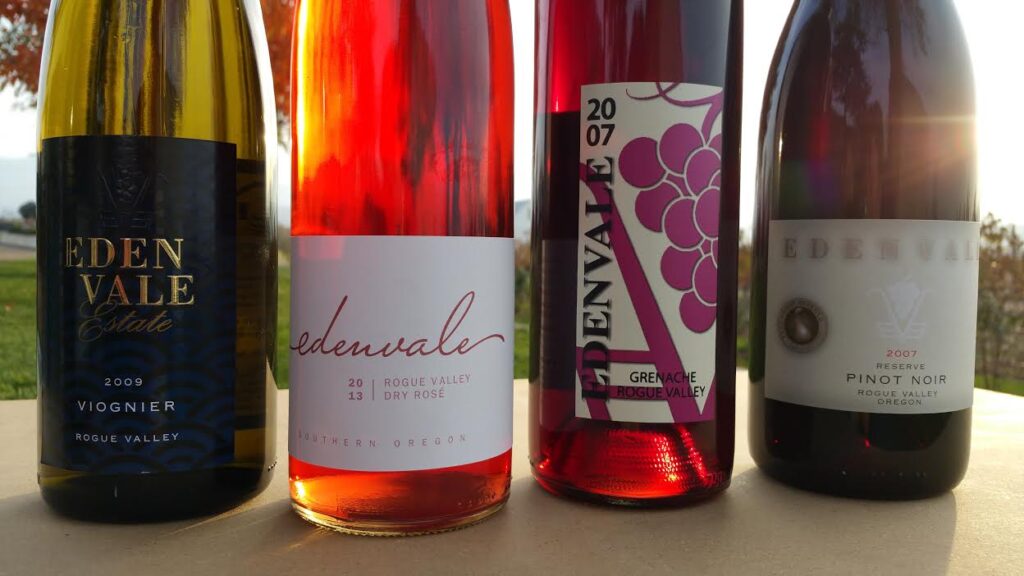 Private Labels
We have wines that you can private label for weddings, corporate gifts or for your own use just because you can! Contact us at wines@edenvalleyorchards.com with your request and we will help you choose the type – or even blend to your requests.
Wine Delivery
We now offer local wine delivery for our local customers. Call your order into our tasting room during business hours or email wines@edenvalleyorchards.com, and we will process your order and deliver it to your home or business. Minimum one case purchase required; the person ordering and receiving the order must be over 21 years of age. Some restrictions apply and geographic locations. Call us for more information.
Wine Tiers
EdenVale has two tiers for our wine brand. We have two blends under our EdenVale label (red and white) and two classic Oregon varietals, Chardonnay and Pinot Noir. These are small production, very well-made classic wines, and our most popular for weddings, parties, or reunions. They are handcrafted from select vineyards where each varietal is grown and cared for perfectly.
Our premium-tier wines are under the EdenVale Reserve and Collector's Reserve labels. These wines are the more unique varietals that excel in Southern Oregon– and again, selected as to location, clone and grower to gather the very best grapes. This collection is comprised of Tempranillo, Malbec, Grenache, Cab Franc, Syrah and Viognier.
All our wines are available online, in fine markets and restaurants, and through our tasting room.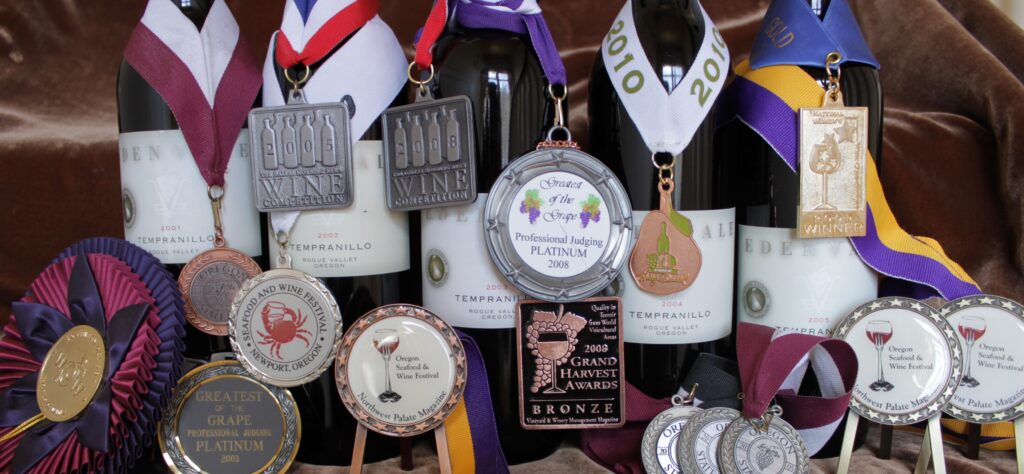 Awards
Congratulations to our winemaking team for all of their hard work. EdenVale wine awards are listed below by year. Stop in to our tasting room to try some of our most recent award-winning wines.
2019

2019 TEXSOM International Wine Awards
Bronze Medal: 2009 Reserve Merlot

2019 International Womens Wine Competition
Bronze Medal: 2011 Heritage Red
Bronze Medal: 2012 Reserve Malbec
Bronze Medal: 2009 Reserve Tempranillo

2019 San Francisco Chronical Wine Competition
Bronze Medal: 2011 Reserve Claret
Bronze Medal: 2009 Heritage Red
2018

2018 International Womens Wine Competition
Gold Medal: ​2014 Dry Rose' 94 points
Bronze Medal: 2011 Reserve Claret

2018 San Francisco Chronicle Wine Competition
Silver Medal: 2009 Heritage Red
Silver Medal: 2016 Eden Valley Orchards Pear House Cider
2017

2017 Oregon Wine Awards
Gold Medal: 2011 Reserve Chardonnay
Silver Medal: 2016 Pear House Cider
Bronze Medal: 2008 Reserve Merlot

2017 Gorse Blossom Festival Wine Competition- Bandon Oregon
Grand Overall Winner – 2007 Reserve Pinot Noir

2017 San Francisco Chronicle Wine Competition
Double Gold Medal: 2008 Reserve Syrah
Silver Medal: 2014 Dry Rose
Silver Medal: 2015 MidSummer Cuvee'
2016

2016 Oregon Wine Experience
Double Gold Medal: 2008 Reserve Tempranillo
2015

2015 San Francisco Chronicle Wine Competition
Silver Medal: 2014 MidSummer Cuvee'
Bronze Medal: Tempranillo (crianza style)
Bronze Medal: Rogue du Rhone

2015 Grand Harvest Awards
Best of Class; Best of Rogue Valley AVA; Best White: 2014 MidSummer Cuvee'
Double Gold Medal:2014 MidSummer Cuvee'
Silver Medal:Non-Vintage Tempranillo (crianza style)
Bronze Medal: 2007 Reserve Claret

2015 Oregon Wine Experience (formerly World of Wine)
Silver Medal: 2007 Reserve Cabernet Sauvignon

2015 International Womens Wine Competition
Double Gold Medal: 2007 Heritage Red
​Gold Medal: 2007 Reserve Cabernet Sauvignon
Bronze Medal: 2007 Reserve Tempranillo

2015 San Francisco International Wine Awards
​Gold Medal: 2007 Heritage Red
Silver Medal: 2007 Reserve Claret

2015 Oregon Wine Awards
Double Gold Medal: 2007 Reserve Tempranillo
​Gold Medal: 2007 Heritage Red
Gold Medal: 2007 Reserve Pinot Noir
2014

2014 Grand Harvest Awards
Gold Medal: 2007 Reserve Syrah
Gold Medal: 2007 Reserve Cabernet Sauvignon

2014 Sunset Int'l Wine Competition
Silver Medal: 2007 Cabernet Sauvignon

2014 American Wine Society
Silver Medal: 2007 Dolcetto
Bronze Medal: 2013 Pinot Gris
​Bronze Medal: 2007 Claret

2014 Indy International Wine Competition
Silver Medal: 2007 Syrah
Silver Medal: 2012 Pinot Gris
​Bronze Medal: 2011 MidSummer's Cuvee'

2014 San Francisco International Wine Competition
Double Gold Medal: 2007 Reserve Merlot -99 points
Bronze Medal: 2011 MidSummers Cuvee'

2014 San Francisco Chronical Wine Competition
Silver Medal: 2006 Dolcetto
Silver Medal: 2006 Tempranillo
Bronze Medal: 2012 Dry Rose'
2013

2013 International Women's Wine Competition
Double Gold Medal: 2006 Malbec​

2013 Oregon Wine Awards
Gold Medal: 2006 Dolcetto
2012

2012 International China Wine Awards
Gold Medal: 2005 Tempranillo
Silver Medal: 2005 Claret
Bronze Medal: 2005 Syrah
2011

2011 Oregon Wine Awards
Gold Medal: 2005 Syrah
Silver Medal: 2005 Tempranillo

2011 Taste of Harry & David
Gold Medal: 2005 Syrah

2011 World of Wine
Gold Medal: Rosso Rubino – Merlot Port

2011 Chuck Hill Wine of the Week – May
EdenVale Reserve Viognier was a favorite with our tasting panel and is included in my most recent online column a http://www.winesnw.com/chuckhill winesofweek.htm

2011 Portland Wine & Seafood Festival
Gold Medal: 2005 Reserve Tempranillo

2011 McMinneville SIP
Silver Medal: 2005 Reserve Syrah
2010

2010 Oregon Wine Awards
Double Gold: 2004 Heritage Red

2010 McMinnville SIP
Gold Medal: 2003 Reserve Cabernet Franc
Silver Medal: 2005 Pinot Noir
2009

2009 Northwest Wine & Food Festival, Portland, OR
Silver Medal: 2003 Reserve Cabernet Franc
Silver Medal: 2004 Reserve Syrah

2009 Taste of Harry & David
2004 Reserve Syrah

2009 National Women's Wine Competition
Gold Medal: 2003 Reserve Tempranillo
Silver Medal: 2004 Reserve Syrah

2009 Newport Wine & Seafood Festival
Gold Medal: 2003 Reserve Claret
2008

2008 Oregon Wine Awards
Double Gold: 2004 Heritage Red

2008 Greatest of the Grape
Platinum: 2003 Reserve Tempranillo

2008 Dallas Morning News Wine Competition
Silver Medal: 2002 Reserve Cab Franc
Silver Medal: 2003 Reserve Tempranillo
Silver Medal: 2006 Viognier

2008-San Francisco Chronicle Wine Competition
Silver Medal: 2002 Reserve Cab Franc
Silver Medal: 2003 Reserve Tempranillo
Silver Medal: 2006 Viognier

2008-Ray's Boathouse Wine Competition – Seattle, WA
First Place: 2006 Reserve Chardonnay

2008-Oregon Wine & Seafood Festival – Portland, OR
Silver Medal: 2003 Reserve Tempranillo
2007

2007-April Sunset Magazine Wine Pick
2003 Reserve Syrah

2007 Grand Harvest Awards
Gold Medal: 2003 Reserve Syrah

2007 Oregon Seafood & Wine Festival
Gold Medal: 2002 Reserve Tempranillo

2007 Greatest of the Grape
Silver Medal: 2003 Reserve Syrah
2006

2006 World of Wine Festival
Gold Medal: 2002 Reserve Tempranillo
Silver Medal: 2005 Viognier

2006 Sante Restaurant Magazine
Gold Medal: 2002 EdenVale Pinot Noir

2006 San Francisco Chronicle Wine Competition
Silver Medal: 2001 Reserve Cabernet Franc

2006 Dallas Morning News
Silver Medal: 2003 Reserve Syrah
2005

2005 Dallas Morning News
Silver Medal: 2001 Reserve Tempranillo

2005 Oregon State Fair
Silver Medal: 2003 Syrah
2004

2004 Oregon State Fair
Silver Medal: 2002 Reserve Chardonnay
Silver Medal: 2002 Reserve Pinot Noir
2003

2003 Oregon State Fair
Silver Medal: 2001 Reserve Tempranillo